When many entrepreneurs first think of branding, the logo, colors, website and graphic design come to mind. Branding is much more than these things. In fact, these things are creative branding, not strategic branding. Strategic Branding offers opportunities to develop a clear model for consistent and predictable growth. But in today's fast moving business economy and high demand, focusing on the strategic side of branding is not easy. Building a solid brand takes a lot of intention, hard work and commitment, to overcome the many challenges along the way.
To better understand the opportunities and challenges that businesses face in building a brand, recognize that branding is a process.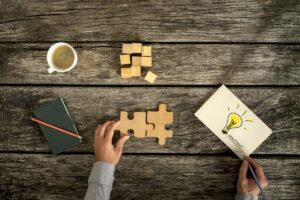 6 Challenges a Growing Brand Faces and How They can be Turned into Opportunities 
Cash 
Brands are long-term assets. They take time to build and require consistent cash flow. When faced with financial challenges, most business entrepreneurs and executives choose to hyperfocus on investments that yield short-term outcomes. This creates a problem when the need arises for a commitment of the cash necessary to build a strong brand. The opportunity created when cash is invested in strategic branding is more growth that generates increased revenues and long-term profits. 
Competition 
Every industry today is increasingly populated and intensely competitive. The challenge for a business is to be unique and stand out in the crowd. Your brand must be innovative in its advertising and marketing efforts to attract attention and create a loyal customer base. The opportunity is that if you can earn the loyalty of the market and your customers, they will become your voice in creating more loyalty from their friends and family. 
Communication 
Clear communication has always been important, but in today's world you need to be able to take your communication to new levels to connect with your audience on a consistent and timely basis. Customers want to be able to interact with companies and share their experiences. They want to express themselves and be heard. Your communication must mirror those wants and expectations while providing the means to allow them to easily communicate with you. When your customers can express their love of your brand and share their positive experiences as well as their negative experiences, the opportunities for growth are amazing!  
Consistency 
Brands today are built through touch points and the consistency in those touch points. Touch points are the ways in which your brand interacts with every customer. With multiple interactions available, the challenge for business owners is staying consistent. You must have everyone on the same page in terms of embracing your brand, understanding the vision and mission, and sharing the message. The opportunities for consistent growth are in the relationships you can build, because your customers feel confident and develop trust in your brand. 
Relevance 
Customers today buy with emotion, want and need. They want to support a brand that is relevant to what they feel, what they need and what they are experiencing at the moment in time. The challenge is staying relevant to the customer and marketplace around current decisions. As a brand striving for relevance, you must be able to continuously show up and give the marketplace ways to feel valued and important. Share compelling and real stories that allow you and the customer to connect. Humanize the brand, allowing customers to see you while you take the opportunity to learn more about them. Being relevant to the important decisions for customers, better prepares your brand to shift successfully when new products and services are launched. 
Technology 
Many small businesses assume only the big companies can afford or need technology, but with modern technology options, accessibility is readily available. Building a successful and profitable brand has become easier and more affordable for small to medium-sized companies. Technology is still needed to streamline operations, improve communications, strengthen supply chains and function efficiently. Today, brands are offered options and flexibility in costs that suit every company's budget. Through the expansive reach of technology, brands no longer need to have a brick-and-mortar location. Technology has redefined business for all company sizes.
Every company has its unique branding challenges and opportunities. To take advantage and turn challenges into opportunities, you must develop your own strategy. Contact Impact Branding Consulting to learn how you can develop a strategic plan that creates a strong brand that positions your company to be unforgettable and profitable.