What can you do to identify opportunities for your brand? Opportunities help you to create new products and services, customer experiences, and positive attention to your brand, so your company can grow.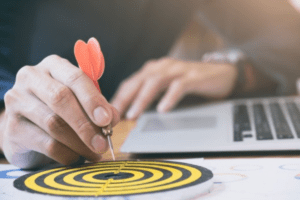 While there are a lot of opportunities to recognize, you want to identify the right ones that will help you build a strong brand. These opportunities should match your company's vision, mission, and goals. They should connect with the meaning of your brand, what you do, and what you are trying to achieve.  
Your first thought in identifying opportunities might be marketing for generating leads and increasing sales. But do not limit opportunities only to sales and marketing. There are many branding opportunities for you and your leadership team to take advantage of. 
At Impact Branding Consulting, we believe when you identify opportunities that can successfully position your brand for growth, you gain important insight for developing your company strategy and building a strong brand. 
Ways to Identify Brand Opportunities 
Consider the following examples to help identify brand opportunities: 
Understand your target audience.
By understanding your target audience and what they need versus what they want, you can identify openings in your market space for new products and services. Listen not only to what your customers like about your products and services, but what they do not like. Building relationships with them will benefit you because you learn a treasure trove of information about how the customer uses your products and services, and what their problems are. This can be an opportunity to improve and add features or develop a better product or service. 
Position your brand in the market. 
Look for ways to expand your locations and position your brand in other ways. As you learn more about your target audience, you want to understand where they are, how they see you in the marketplace, and how they respond to different marketing channels. Use this information in evaluating your value proposition, or unique aspects of your brand. In other words, highlight your competitive advantage. When you compare your product and services to your competitors, you might find one of their weaknesses is your strength and this strength makes your brand unique and memorable. 
Identify partnering opportunities. 
Partnerships can increase the reach of your audience. We empower and guide our clients to develop profitable partnerships. As a leader in your organization, you have networking opportunities with various leaders within the community and across your industry. These networking opportunities can open doors for partnering in exciting ways. Whether your company partners with another company, sponsors an event, becomes a champion with educational institutions, or collaborates in another way, these types of opportunities increase brand awareness and helps your company get key messages into the community. 
Identify ways to improve leadership.  
Examine your existing products and services by looking at your processes and how you are delivering on your promises. Developing growth at every step of the organization is important. So, look for untapped talent and excellence in your organization that can help exemplify and improve customer service. It is amazing how many leaders in an organization miss the opportunity of replicating excellence that already exists within. 
Optimize Brand Opportunities with a Strategic Plan 
The above ways to identify opportunities are a few examples of moving your company in the right direction for building a strong brand. A strategic plan is the key to identifying which opportunities are most feasible and appropriate for your company. The strategic plan will give you a clearer picture for how to develop other areas of the company brand.  
For example, while exploring growth options, it is essential that you define your growth objectives and how the opportunities align with your overall company's vision, mission, and values. Being clear about your goals and how to achieve them saves money, resources and time.
Remember that identifying brand opportunities is one part of your strategic plan. The actions you take should be planned and executed with a strategy that is specific, consistent, and flexible. You will need to measure your brand's performance and regularly monitor it to learn from your successes and failures. There is also a need to develop strategic communication to align and engage your team, partners, and customers to fully take advantage of the opportunities to optimize the growth of your brand.  
A company like Impact Branding Consulting can help identify opportunities to expand your brand through strategic planning. Contact us to learn more.